Josh Jacoby
Josh Jacoby joined WriteAway as project and operations manager in 2013. Josh is a serial entrepreneur and founder of three successful businesses, with expertise in finance, marketing and business operations. He serves WriteAway in a variety of roles, ranging from strategic planning to client services to keeping our computers running and our software up-to-date.
Josh founded Roseville-based managed computer services company InnovaCrew Technology Services in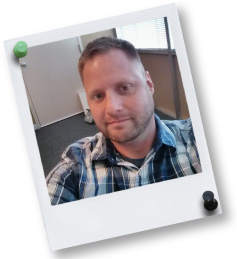 2002 and sold the company in 2010. Recognizing an unmet need in the field of IT services, in 2006 Josh spun off Tech Marketing Autopilot (TMA), a marketing firm serving technology service providers throughout the United States and Canada. In 2010, Josh spun off a third business, WholesalePBX, providing voice over IP telephone services, marketed by computer managed services providers to their clients.
Josh has served in leadership positions in numerous community organizations, including founding Creative Council member of Roseville Connects, a young professionals organization, logistics chair for Roseville Chamber of Commerce Splash and Roseville Economic Development Expos 2005 and 2006, treasurer of Roseville Performing Arts, president of the Sacramento Rainbow Chamber Foundation for 2007-2008, and director of Sacramento Pride 2010 and 2011. He is a graduate of Leadership Roseville 2004 and was named one of Sacramento Magazine's 40 Under 40 in 2008.