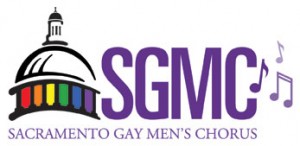 Chorus Kicks Off 29th Concert Season with
Big Band-Themed Show Dec. 6-10
Oct. 31, SACRAMENTO –The Sacramento Gay Men's Chorus will team up with Sacramento's highly acclaimed Harley White Jr. Orchestra for the chorus's 29th season holiday concert, "Cool Yule: A Big Band Theory." "Cool Yule" performances will be Friday, Dec. 6, at 8 p.m.; Saturday, Dec. 7 at 8 p.m.; Sunday, Dec. 8 at 4 p.m., and Tuesday, Dec. 10, at 8 p.m. All four shows will be at the First United Methodist Church, 2100 J Street, in Midtown Sacramento.
Sacramento Gay Men's Chorus Artistic Director Steven Johnson said the opportunity to blend the chorus's big vocals with Harley White Jr.'s cool jazz sound will bring a new experience to the chorus audience.
"The chorus is fortunate to have the opportunity to do this," Johnson said. "Harley's orchestra gives the show a cool vibe that is very appealing. When you look at all the carols and tunes arranged for the show, plus our lighting and staging, all the ingredients come together, and there's something very magical about it."
"Cool Yule" was arranged for chorus by Patrick Sinozich of the Chicago Gay Men's Chorus. The Harley White Jr. Orchestra will open and close the show, with some more traditional seasonal and humorous numbers in between. Vocal ensemble Boy Howdy will perform "A Cloistered Christmas," about a group of monks frustrated by the holiday season, and "A Black Christmas," a tongue-in-cheek number bemoaning the lack of diversity in many traditional depictions of the holiday acheter viagra le moins cher.
Bandleader White said he hopes to perform three original arrangements of songs from "A Charlie Brown Christmas": "Christmas Time Is Here," "Skating," and "O, Tannenbaum." Performing with a large chorus is a different type of experience for the orchestra, which has also performed with the Sacramento Master Singers, White said. "It brings our classicism out. Most jazz musicians have classical training. With a chorus, the performance is more formal. You can't pat your foot unless it's choreographed. There's a lot of informality with jazz. With a chorus, I have to stand in front of the orchestra and conduct; with jazz you just sit down. It's a good thing because it reminds us of our roots. I am an arranger and composer, a sonic painter; I paint pictures in tones. Working with so many tonal colors is always exciting."
The chorus and band will rehearse together at least twice prior to the show. "The Harley White Jr. Orchestra is very much in favor of full equality," he said. "We are equal-opportunity, multi-gendered, multi-racial. It's always about the music and about working with the best. Sometimes you have to work with somebody that's not like you. I want to work with the best."
Founded in 1984 as a singing group aimed at fostering a sense of community and provide support for Sacramento area gay and lesbian people, the Sacramento Gay Men's Chorus performs numerous concerts and community benefit appearances each year. Over the past 29 years, the group has become an integral part of the Sacramento arts community as well as a voice for lesbian, gay, bisexual and transgender (LGBT) equality. The chorus strives for musical excellence and maintains a vigorous rehearsal schedule and music education program.  For more information about the Sacramento Gay Men's Chorus, or to purchase tickets to the "Cool Yule: A Big Band Theory" holiday concert, visit sacgaymenschorus.org.